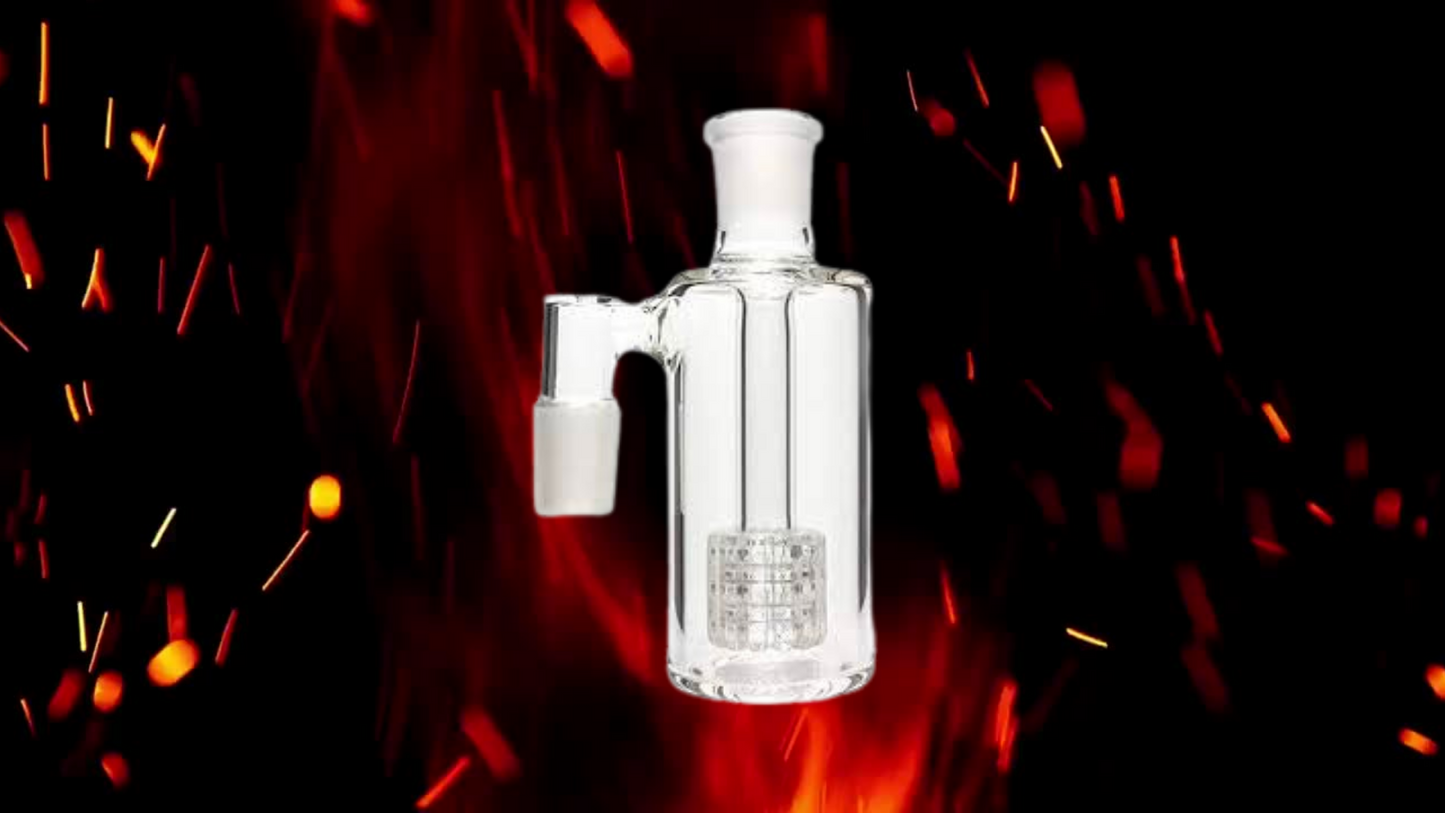 Ash Catchers Explained: Keep Your Bong Cleaner, Longer
If you're a bong enthusiast, you've probably heard of ash catchers, but you might not be sure what they do or why you'd want one. Read on and step into the world of cleaner, smoother smoking experiences! This is your comprehensive guide to ash catchers.What they are, why they matter, and how to choose the right one for you.
Easier Cleaning: Less gunk in the bong means less frequent and easier cleaning.
Enhanced Filtration: Extra percolation can make for smoother hits.
Flavor Preservation: Less ash means purer flavor.
Extended Bong Lifespan: A cleaner bong is a longer-lasting bong.
Why use an ash catcher?
You might be wondering if an ash catcher is worth the investment. Here are some compelling reasons to consider:
Easier Cleaning
Nobody enjoys cleaning their bong. An ash catcher captures most of the ash before it can dirty your bong, making your life much easier when cleaning time rolls around.
Enhanced Filtration
An additional layer of water filtration can significantly smooth out your hits, making for a more enjoyable smoking experience.
Flavor Preservation
By keeping ash out of the equation, an Ash Catcher helps preserve the pure flavor of your smoke.
Extended Bong Lifespan
Reducing the amount of ash and debris that accumulates in your bong can help extend its lifespan, saving you money in the long run.
TYPES OF ASH CATCHERS
GLASS ASH CATCHERS
Pros: Easy to clean, does not affect flavor.
Best Uses: Everyday home use.
Cons: Fragile, can break easily.
PERCOLATOR ASH CATCHERS
Pros: Provides extra filtration, smoother hits.
Best Uses: For those who prioritize smoothness.
Cons: Can be harder to clean, usually more expensive.
MULTI-CHAMBER ASH CATCHERS
Pros: Even more filtration, traps almost all debris.
Best Uses: For the ultimate in clean, smooth hits.
Cons: Most difficult to clean, can be quite expensive.
HOW TO CHOOSE AN ASH CATCHER
Choosing the right ash catcher is essential for a satisfying smoking experience. Here are some key factors to consider:
COMPATIBILITY: MATCH JOINT SIZES AND GENDERS
Why It's Important: An incompatible ash catcher won't fit your bong, rendering it useless.
How to Check: Measure the joint size and note the gender (male/female) of both your bong and potential ash catcher.
Expert Tip: Always double-check specifications or consult with customer service if you're unsure.
SIZE: KEEP YOUR BONG BALANCED
Why It's Important: An ash catcher that's too large or heavy can tip your bong over.
What to Look For: Make sure the ash catcher's size is proportional to your bong.
Expert Tip: If possible, test the balance with water in both the bong and ash catcher before full use.
MATERIAL: CHOOSE BASED ON PREFERENCES
Why It's Important: Material can affect both durability and flavor.
Options:
Glass: Best for flavor but fragile.
Silicone: Durable but may slightly affect flavor.
Expert Tip: If you're a flavor purist, go for glass. If you need something more durable, silicone may be better suited for you.
BUDGET: GET THE BEST VALUE FOR YOUR MONEY
Why It's Important: Price can vary greatly, and you want to make sure you're getting a good value.
What to Consider: Balance quality and cost. Don't automatically go for the cheapest option, as it might lack in quality.
Expert Tip: Check for reviews or recommendations to make sure you're getting a good product within your budget.
INSTALLATION AND USAGE
Here's how to attach an ash catcher to your bong and get the most out of it:
Ensure Compatibility: Make sure the joint sizes and genders match.
Clean the Joints: Both the bong and ash catcher joints should be clean for a secure fit.
Attach the Ash Catcher: Simply slide it into the joint of your bong.
Check the Balance: Make sure your bong is stable and won't tip over.
Fill with Water: Add enough water to submerge the percolator, if applicable.
Enjoy: You're all set to enjoy cleaner, smoother hits.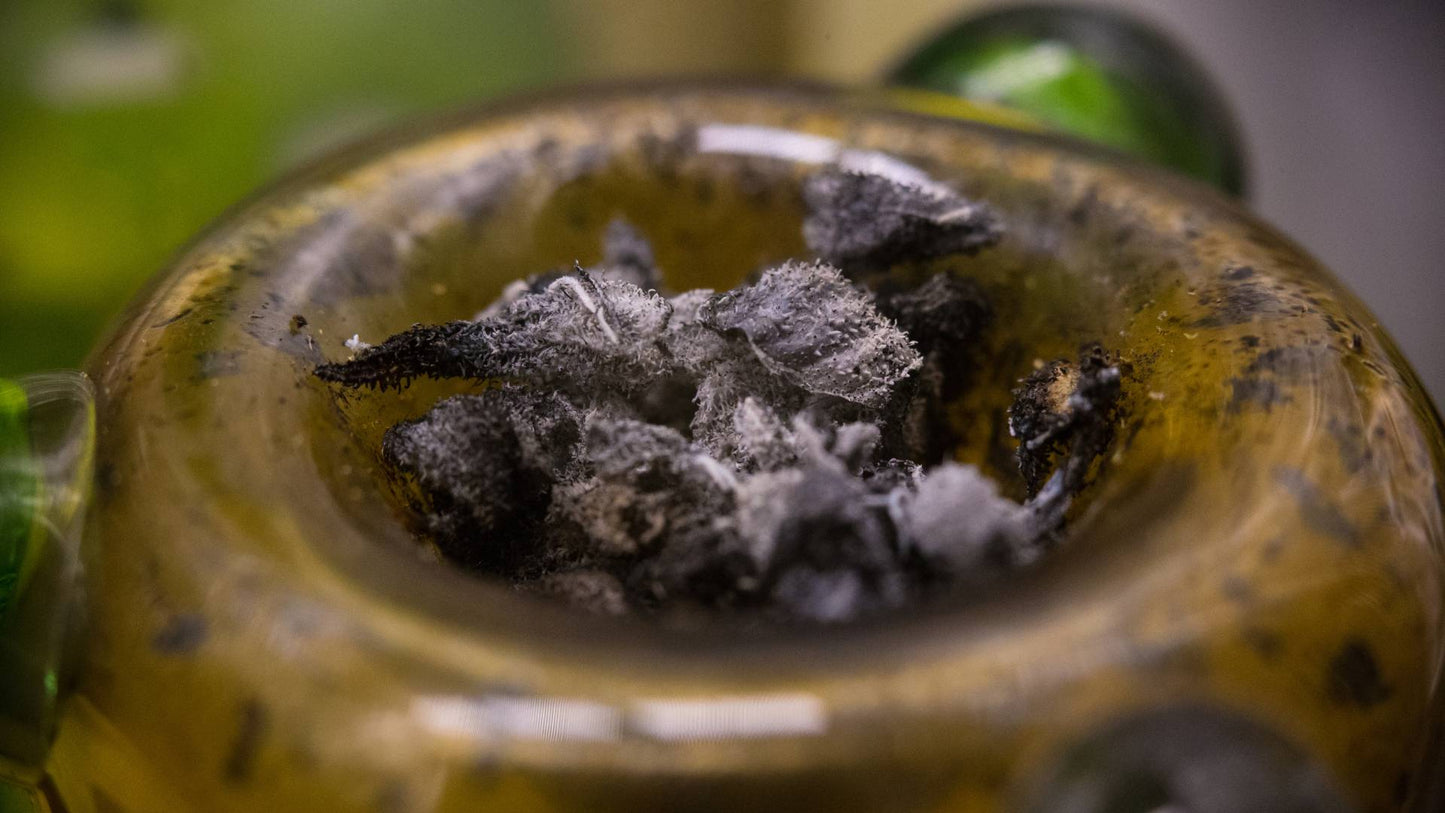 MAINTENANCE AND CLEANING
Keeping your ash catcher clean isn't just about aesthetics; it's also crucial for ensuring optimal functionality. Here's how to give your ash catcher the thorough cleaning it deserves:
STEP-1: GATHER YOUR CLEANING SUPPLIES
What You'll Need:
Isopropyl alcohol (at least 91%)
Coarse salt
Ziplock bags or a container that can seal
Pipe cleaners or a scrubbing brush
Rubber gloves (optional)
STEP-2: EMPTY AND RINSE THE ASH CATCHER
Why It's Important: You want to remove as much loose ash and debris as possible before the deep cleaning.
What to Do: Empty the ash catcher and give it a preliminary rinse with hot water to remove loose particles.
STEP-3: PRE-TREAT STUBBORN RESIDUE
Why It's Important: Pre-treating helps to loosen up stubborn grime for easier removal later.
What to Do: Apply a small amount of isopropyl alcohol to any stubborn spots and let it sit for a few minutes.
STEP-4: PREPARE THE CLEANING SOLUTION
Why It's Important: The right solution will maximize cleaning efficiency.
What to Do: Fill a Ziplock bag or container with a mixture of isopropyl alcohol and coarse salt. The salt acts as an abrasive, and the alcohol breaks down the residue.
STEP-5: SOAK THE ASH CATCHER
Why It's Important: Soaking helps to break down grime and disinfect the ash catcher.
What to Do: Submerge the ash catcher in the cleaning solution and seal the bag or container. Shake it well and let it sit for at least 30 minutes to an hour.
STEP-6: SCRUB
Why It's Important: Some areas may require manual scrubbing for complete cleaning.
What to Do: After soaking, use a pipe cleaner or a scrubbing brush to tackle any remaining stubborn spots.
STEP-7: RINSE THOROUGHLY
Why It's Important: You want to make sure all cleaning agents are completely removed.
What to Do: Rinse the ash catcher thoroughly under hot water. Make sure all the alcohol and salt are rinsed off.
STEP-8: DRY AND RE-ATTACH
Why It's Important: Proper drying prevents bacterial growth.
What to Do: Allow the ash catcher to air dry completely before reattaching it to your bong.
STEP-9: REGULAR MAINTENANCE
Why It's Important: Regular cleaning extends the lifespan of your ash catcher and keeps it functioning well.
What to Do: Repeat these steps at least once a week, or more often depending on usage.
DO'S AND DON'TS
Do: Make sure your ash catcher and bong are compatible.
Don't: Neglect regular cleaning—build-up can affect performance.
Do: Choose an ash catcher that suits your smoking preferences.
Don't: Use a cracked or damaged ash catcher—it could be hazardous.
Learn how to cleanNectar Collectors by reading on.
NOW THAT YOU KNOW ALL THINGS ASH CATCHERS
Ash catchers offer a simple yet effective way to elevate your bong-smoking experience. They can make your hits smoother, your flavor purer, and your cleaning easier. If you haven't considered adding one to your setup yet, now might be the perfect time to do so. Happy smoking!